July 10, 2009
THE INEVITABLE RETURN OF JKH.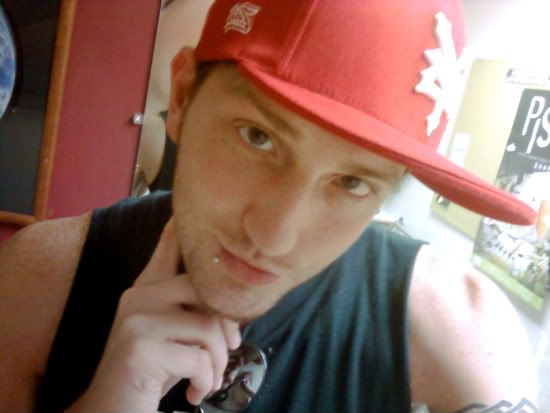 I was in the middle of painting a beautiful picture for someone last September, and even better, enjoying the beginning of the magical life I had always fantasized about, and the next thing I knew, everything went black. I thought I was going to die. I remember laying by the pool at 5am, as I had just read the news that would change everything. In a total state of shock, I immediately downed a half-pint of whisky in a matter of seconds, as I sat in disbelief. I laid beside the pool, one foot and one arm in the warm water, debating on whether I should just roll myself into the 9-foot in-ground tank in the million-dollar mansion we were living in. Tears ran down my face and onto my chest, as I felt my heart peel apart from the inside. I remember choking on my own pathetic tears, and suffocating myself around the words of deceit I had discovered. That was the moment I knew it was over. Los Angeles was the end of all childhood dreams. (Fool's Gold)
Where has J:10 been hiding out? Seems like everyone I bump into asks me that same question. Well, the answer is obvious. I've been running that grand-scheme hustle. If you know me well, you know exactly what I mean. I'm not your normal nine to five. I don't care what company your fiance' works for, and by the way, I've never been to Florida. I don't know why, but that irritates me. Not your typical dude. I tried to tell you.
I've spent the past eight years out of high school, working my ass off like you'd never believe. First, it was pursuing the music industry. Two records (one and a half, technically), two band break-ups, and two relationships later, I find myself half way through my second stint in college. "Wait a second! Justin, you're 26, you're supposed to have a career and a full-time job. What about the bank account, and don't you still live with your mom!?"
Look, I won't say it again. I'm not your average. In fact, to all those opposed to me, I dare you to put your work ethic face to face with my own. You'll walk away sorry, fat lip and all. In fact, I tip my hat to everyone who's ever stood against Justin Hite. On March 19 (my birthday), I'll be graduating with Honors. Dean's List Honors, that is. If all goes right, in a matter of weeks, I will be completely out of debt (school loans not included, of course), and I'll be pushing the envelope with a few little tricks up my sleeve. Just like always.
Oh, and for all of those who ask and ask, have I given up music? The answer is No. Did you really think you'd seen the last of me? I will never go away! Rest assured, the good Lord Almighty provides me the days, I'll never ever, ever quit. That's what some don't seem to get about me.
Sometimes it feels like the wheels are spinning out of control, but you're stuck in the mud. I know you understand. But that's where most just give up and get comfortable with what they have, and then there goes the rest of life. Marriage, a few kids along the way, and three divorces later, we can't figure out what went wrong. End rant.
So, I guess that brings us to now. Tonight, our Graphic Design Department at Antonelli College will be opening our Cartooning Extravaganza to the public, from 5-9pm. Admission is completely free, and I would encourage anyone interested in Comic-style inking, and original artwork to stop in and appreciate some of our finest students' work, including yours truly. (241 E. 7th St, Cincinnati, OH) After-Party is at Lodge Bar, conveniently located across the street from Antonelli. ($10, All you can drink, from 9-11pm!) Celebrate good times, come on!!!
MAIN MOON::
Main Moon Production has just announced the return of MMSBC, the story of life imitating art, imitating life, which is currently in development of being made into a graphic novel. Main Moon struck gold, landing local Cincinnati artist (and Antonelli Graduate), Chad Schoettle as the Lead Artist for the novel. Here's the kicker: With all of the footage gathered over the past two years, there will also be a documentary to accompany the release of the novel. Main Moon Exec, Ricky Henry (rickyhenry.com) and Myself will be Co-Producing the documentary, which hopes to be released in 2010 at the almighty Mag-Fest convention in Alexandria, VA (Just outside of DC), as well as a local opening, here in Cincinnati.
I've been lucky enough to work with Main Moon off and on over the course of two years, and this is the way I've personally always wanted MMSBC to be conveyed. It's amazing how upon first reading the original script in 2007, reality actually happened, and each of us began to see the script unfold in real life. It's very chilling to see how "real" the fabricated story actually became. You'll have to wait for the premier! Until then, check out (Main-Moon-Productions.com).
WHO IS SHAEL RILEY & THE DOUBLE-ICE BACKFIRE???
There is a small buzz concerning the latest release of Brooklyn, NY-based recording artist Shael Riley's (shaelriley.com) upcoming album, which is so secretly-titled, that I'm not at liberty to announce it here. The album's prequel, "Songs From The Pit," is exclusively set for release this Sunday night at Orlando's Nerd-A-Palooza festival. The Grammar Club is a supergroup composed of Shael Riley, Rapper/MC Beefy, from Seattle,(beefyness.com), East Coast scratch-master DJ Snyder (cousin of rocker Andrew W.K.), and an electro/live percussionist and synth beat phenomenon that simply goes by "Baby Face Glasses." BFG actually goes by his real name, if you look around, he can easily be found online. That's just how the guy rolls. Check out The Grammar Club, as they'll converge Sunday, for the first time EVER at Nerd-A-Palooza in Orlando, with the release of "Songs From The Pit."
The underground supergroup Double-Ice Backfire is composed of members of TGC, as well as additional members Jon Titterington, and Ty Guenley. DIB has been recording their entire upcoming album in multiple locations throughout the US.
I've heard most of the album, and I'm completely convinced that it has commercial mainstream potential, and the ability to reach several different genres. I personally can't wait for the mysteriously still-untitled album to be released this Fall. One track from the album is titled, "Publishing Rights," which features guest vocals by Shaffer The Darklord (ShafferTheDarklord.com). There may be another surprise vocalist on "Publishing Rights," but you'll have to wait of course to see who that may be. Check out Shael Riley & The Double-Ice Backfire. If you find them underground, that is.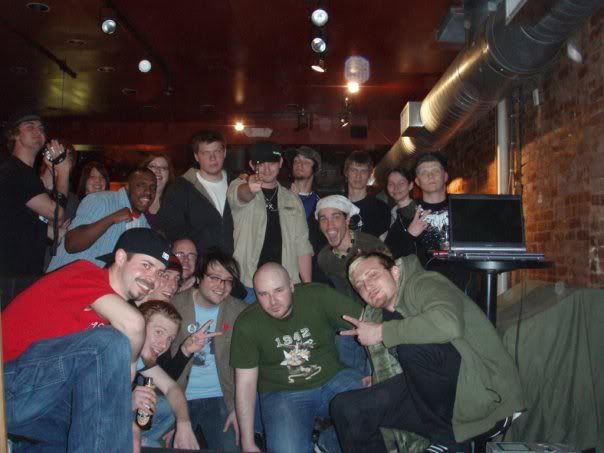 Pictured: Cincinnati rap prodigy Dual-Core, BFG, Shael Riley, J:10, Main Moon Productions, and others at Clifton's Baba Budan's, after Shael Riley's last show in the Queen City.
So,I have my own website now. If you can find it, check it out. It's a work in progress. I'm taking two business classes right now, so the official launch is still TBA. But until then, you can check out TONS of pics I scanned in over the past 3 days. I'll either put them on Facebook or Myspace, I'm still undecided. That's just the kind of dude I am. I like to keep you waiting, and waiting. And waiting!!! Check out the photos, you will see some familiar faces, and some good stories buried within the stills. So comments are encouraged.
It's kind of late, I'm completely worn out, and I need to go visit my 2 rad neighbors before crashing out for the night. I'm actually writing this in the past, because it's actually last night. See, I dated this blog the 10th to make you believe it was happening now, but RIGHT NOW is actually last night. Ooh, I went all Tarantino on you. I tried to tell you. You can't keep up with me.
-10Dog Millionaire
"Put up your Peace Sign, put your Index down.!" -(Travis McCoy, Gym Class Heroes)